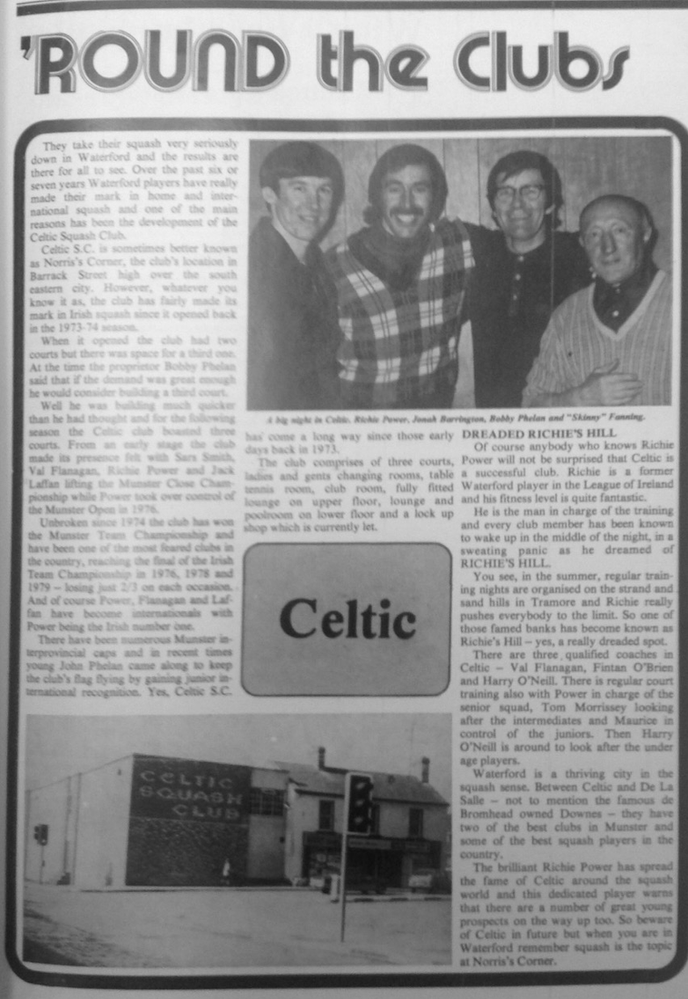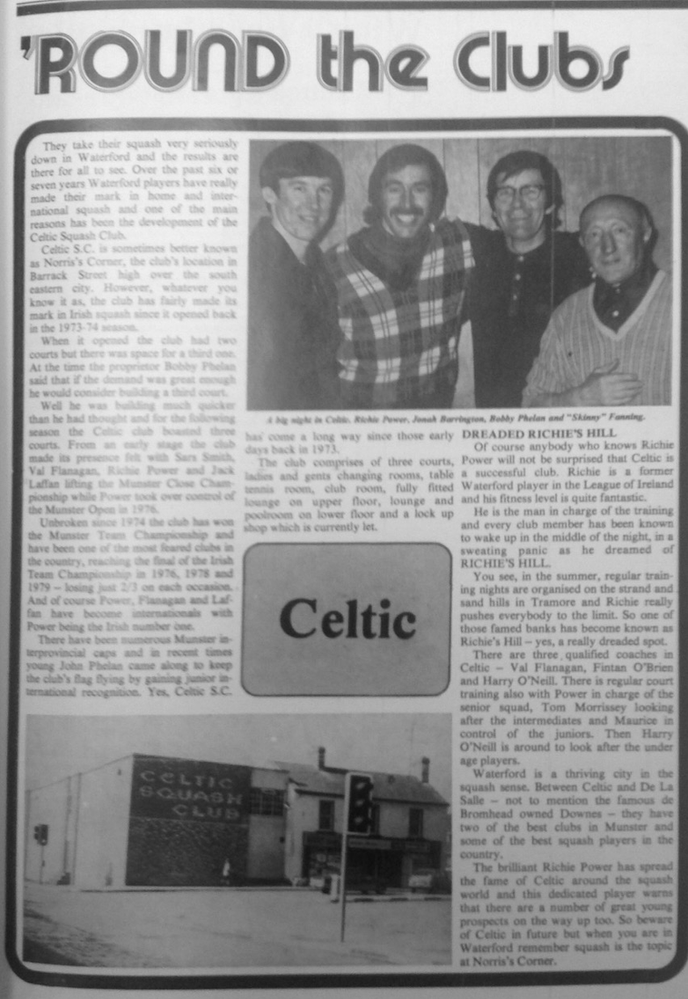 All great clubs in any sport owe their origins to visionaries and those with commitment and strong work ethic. Whether it be Joan Gamper and Barcelona in 1899, Brother Walfred and Glasgow Celtic in in 1888 or the establishment of the GAA in 1884 as foundation stones, then the starting point of the history of the Celtic Squash Club is with Bobby Phelan in 1974. Phelan, the proprietor of Celtic Squash Club and Norris' Bar on Barrack Street was described as 'one of the pioneers of squash in the city' by the Munster Express in October 1980 having served as President of the Munster Squash Association. With starting the club, Phelan was "a leading figure in making Celtic one of the strongest clubs in Ireland." During the golden age of the sport in Waterford, the club could call upon players such as Richie Power and Jack Laffan as its representatives both going on to international honours.
The early 1970s from which Celtic SC was formed saw a boom in the sport of squash with over 7,000 players and 90 courts across the island of Ireland in 1972. Also, the success of Jonah Barrington on the international stage (though born in Morwenstow in Cornwall to Irish parents from Wexford and he himself educated at Trinity College, Dublin, represented Ireland) winning the British Open (then deemed the World Championships) six times between 1967 to 1973 heightened interest and participation in the sport.
Core to the stream of talent playing for Celtic was the role of Michael Moss from Belfast. Originally a head of biology at a Christian Brothers School in his hometown, he switched to a career in professional sport as a squash, karate and swimming coach and held positions with the Squash Ireland Company in Limerick and Celtic Squash Club in Waterford. In 1976 he was appointed manager of the then newly built Tralee Sports Complex costing £400,000. However, it was not all plain sailing for the club from its inception.
Controversy arose in November '76 when a Celtic SC request for its Dublin based players (Richie Power, Val Flanagan and Jack Laffan) to represent their home team in a Leinster team tournament was rejected. A similar problem was posed the previous year for the All-Ireland Championships though the players were allowed to play for Celtic.
Phelan believed that the ruling was unfair on the club, commenting to the Irish Times "If Leinster had accepted our entry in the league this situation would not have developed…" and likened the situation to "If the English county championship were prepared to accept an entry from a Dublin team who had…the services of our two Dublin based players…surely Leinster can accept us." In reviewing the situation, the Leinster committee deemed that the Celtic Squash was "too preoccupied with winning, and not sufficiently concerned with the spirit of participation". Due to the circumstances of geographical location the Waterford club were impeded rather than left join the highly competitive Leinster League in which its top players sought to test themselves against a better standard of player.
But the club was not only a production line of talent but also devouring silverware a plenty. From 1974 to 1986, Celtic Squash Club claimed twelve Munster Senior Team Championships in a row. A feat that the Kerry Gaelic Footballers or Kilkenny hurlers would love to boast in their respective provinces and sports. The twelfth of those came after finishing top of the pool on forty points ahead of De La Salle and Limerick Lawn Tennis Club without conceding a single game.
An important member in the early years of the club was Fred Greene, who worked in the refrigeration industry, first served as club secretary before becoming its president in 1980. He sought to continue to foster young players in the sport to challenge the older more established players. In 1979, one of the latter, Richie Power became the first player from outside Belfast or Dublin to win the Irish Close Squash Championship (which had been dominated by Northern players till that point) after switching his attention from League of Ireland soccer with Waterford to squash. Crediting his success to Robin Dawson, Sars Smith, Fintan O'Brien and Michael Bolger "who introduced squash to Waterford". In a 'Personality Profile' for the Munster Express, Power stated "These men were never too busy to coach up and coming young players and devoted a great deal of time and energy to the game." Additionally, the facilities of three full courts, a meeting room/clubhouse, changing rooms, and table tennis and pool room were praised as being instrumental in the club's growth and success.
In 1982, Harry O'Neill was named chairman of the Celtic Squash Club and played a key role in the organising of the Milton Bradley Team Squash Tournament, then considered a 'prestigious' competition with entrants from all over Ireland taking part. The inaugural competition saw the hosts Celtic lose the intermediate final to Collins of Cork but achieved victory over the same opposition in the junior section of the competition.
The following year saw sides from Fitzwilliam, Belvedere, Mount Pleasant and two sides from Dermot Ryan's Eurocentre all from Dublin; Orchard from Cork with Kilkenny, New Ross and Limerick also represented. In addition, the rivalry between local sides Celtic Squash and De La Salle continued to brew, the latter with the strong selection of Munster capped Willie Cuddihy, Nicky Kavanagh and Tommy Cummins deemed as favourites. By 1983, players from Australia, England, New Zealand and Scotland took part with a prize of a £250 cheque for the winner, while the runner-up would receive £200.
Once more, the emphasis on developing youth was promoted by O'Neill who had previously served as President of the South East Squash Association and selector of the junior international team. In addition, as a former pupil of Mount Sion, he was an example of the links between the club and school on Barrack Street that has played an important role in its membership. For in 1979, three Mount Sion pupils and Celtic Squash players were selected to represent
Waterford schools; Denis Kelly,
John Phelan and Peter Kavanagh.
The mixture of growing interest in the sport combined with diligence in promoting the coaching of youths paid dividend in 1981. For the first time the All-Ireland Championship (then sponsored by Guinness Mahon) was claimed by a team outside of Belfast and Dublin. It was also the first time a side achieved full points in their victory; Celtic Squash had achieved the ultimate prize with eighty points out of a possible eighty. The players that were a part of the success were Richie Power, Jim Skelton, John Phelan and Sean Twomley.
Around this time a notable player to come through Celtic SC was Peadar Kavanagh. After six years working in Waterford Glass he devoted his attentions purely to the pursuit of squash joining Squash Ireland. His first World Championships coming at age 18 in Singapore in 1982. Six years later he was ranked number six on the Irish team and lived with that sides number one, Willie Hosey in Clontarf. Another player who received acclaim from the 1980s was John Ryan, a printer at Atlantic Print in Waterford, who took the notable scalp of international John Young in the 1988 Munster Open.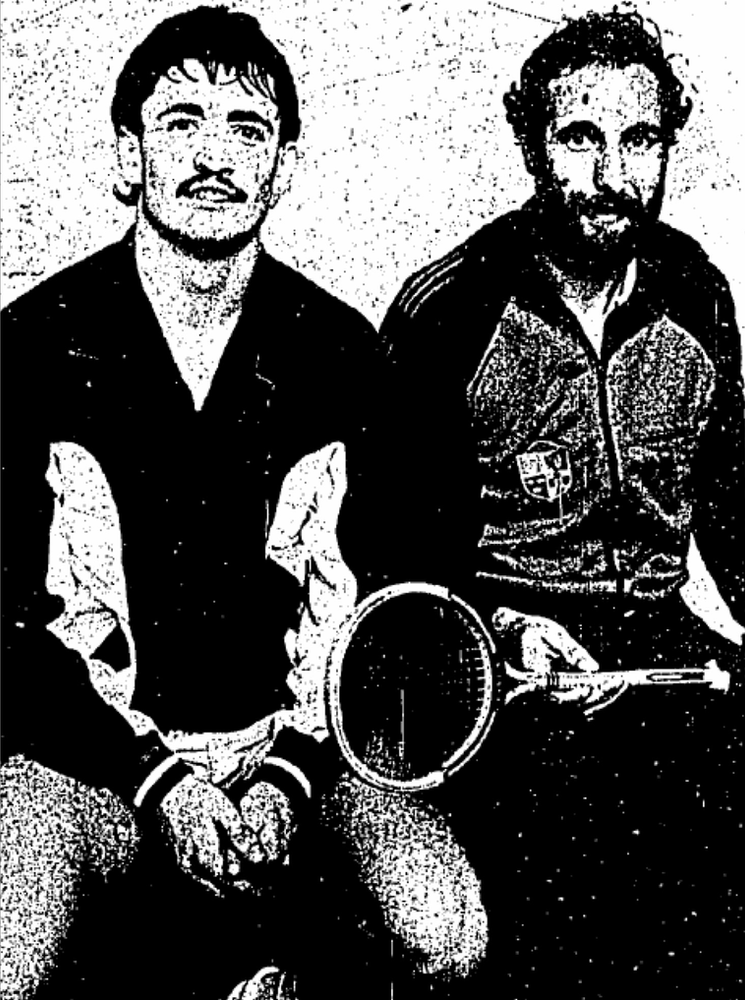 Celtic Squash's success continued well in to the latter half of the 1980s. In the 1987 Munster Club Championships, they had a record five teams participating with two gaining victory. One of the successful sides was the seniors earning a fourteenth Munster title in-a-row with the familiar names of internationals Peadar Kavanagh and Richie Power with John Ryan, Willie Clancy, Richard Kennedy and Jack Laffan. It was that group of players aim to win a third All-Ireland in succession having won the competition outright in 1985 and '86. That third victory in '87 was not only their third in a row but also the clubs sixth in thirteen years. It was earned by defeating Sutton (Dublin) by three games to two. An interesting side story was the return of John Phelan to take part in the finals after taking up what was described as a lucrative coaching position in Germany. In the same year the junior ladies claimed the Munster Championship and ladies' novices in the Waterford league.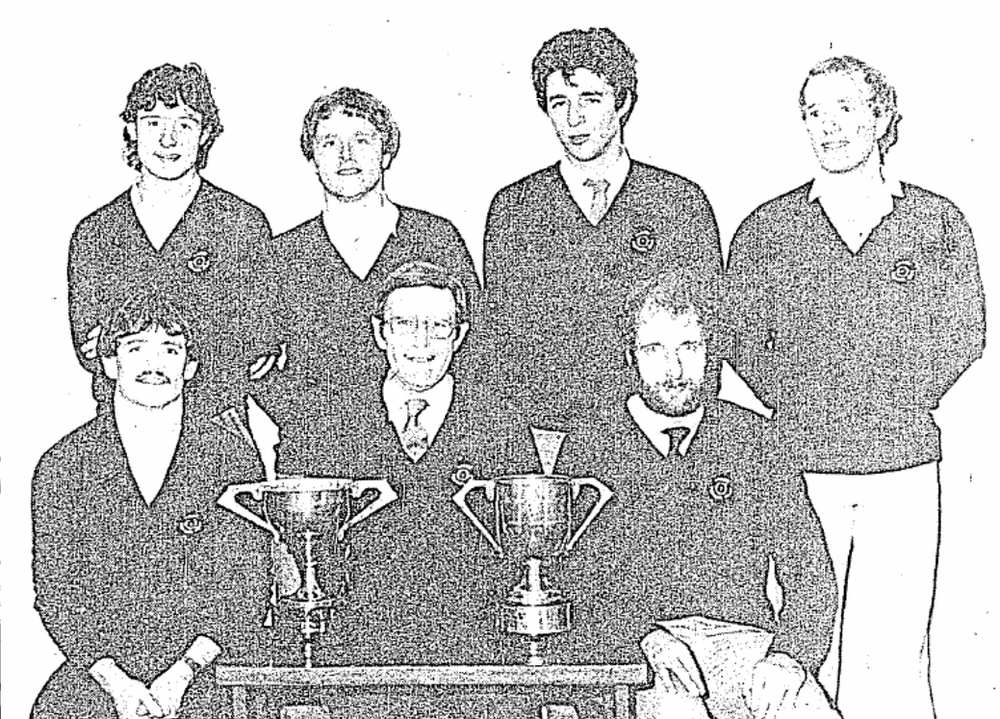 Such a run of victories was not the preserve of the men's team. More success connected to Celtic Squash was that of Sinead O'Connor who achieved six Munster titles in succession in the Munster Junior Close in the under-19 girls section in 1989.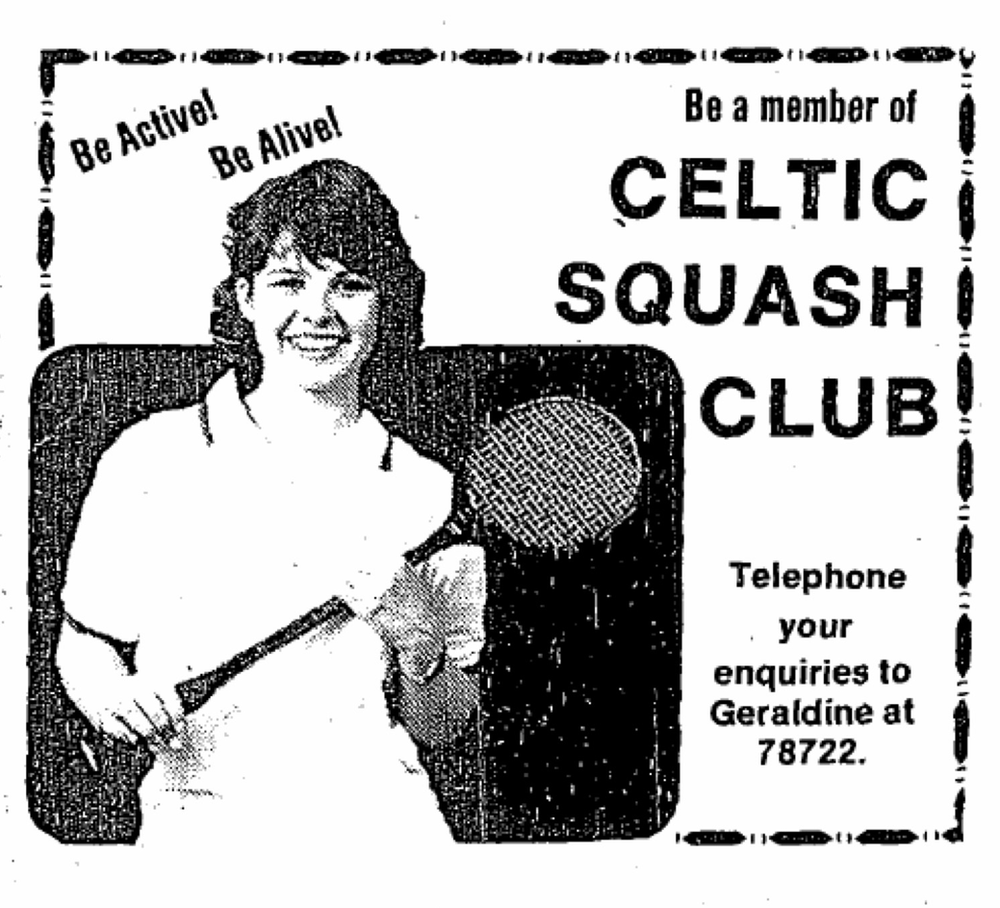 The growth of the sport in Ireland and Waterford mirrors that of the interest of one of the great personalities of the city, James 'Skinny' Fanning. A native of Morrisson's Road, educated at nearby Mount Sion, he worked in Dawson's Pawnbrokers till volunteering in the Irish army during the Second World War. Upon retiring from active service he undertook a career in the bar trade and was a familiar face to punters at McLoughlin's, Downes (another centre of squash excellence) and Celtic Squash Club. The first Army Squash Championships occur in 1938 and would lead Fanning to develop a love for the sport and was noted as an excellent coach (particularly with the Dunhill Squash Club).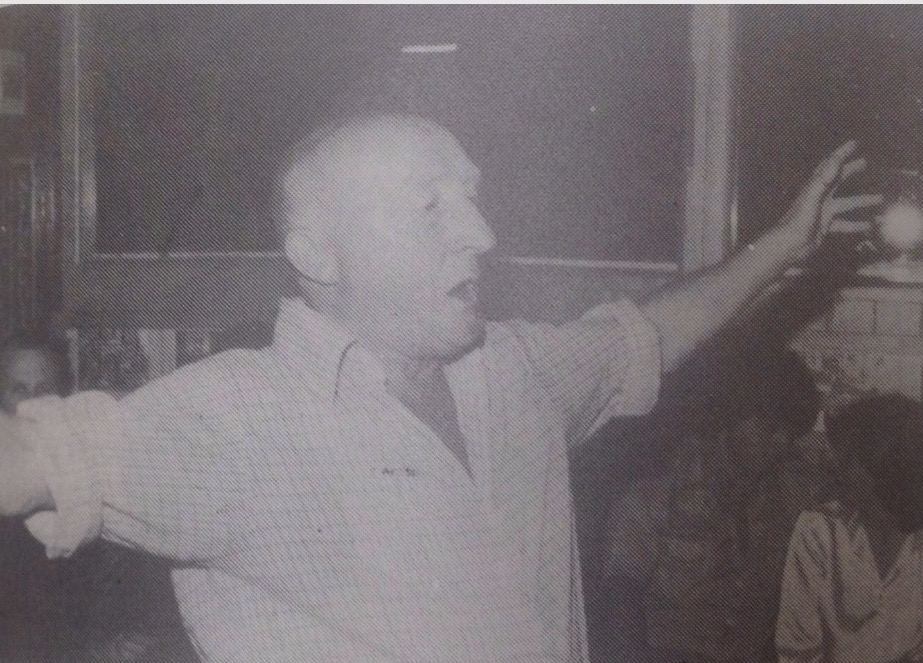 The 1990s saw a decline in the sport nationally but it has been in resurgence in recent years. The period saw Celtic SC as a facility for 'pay as you play' rather than cultivating players for future success. The closure of De La Salle squash club renewed the fortunes of the Barrack Street group. One of the most recent players of note produced by the club is Kevin Knox. In 2011 he won his third Munster Championship (2007, '10 & '11) in his fifth final in as many years. 2016 saw Kevin claim his eighth club title. He also numbered the five-man team that won Celtic SC (made up of players formerly of the De La Salle club and its Dungarvan counterpart) it's last All-Ireland club championship in 2005 (defeating Fitzwilliam) which numbered Ray Crowley, Paul Freyne, Anthony Lyons, Brian and Kevin Knox.
Later that year the five represented Ireland in the European Championships staged at Paderborn in Germany achieving a top ten finish. They would go on to win four Munster titles in a row reaching two more All-Ireland finals in which they were narrowly defeated (on both occasions by Fitzwilliam in 2006 & '07).
A noteworthy member of the side that lost those two showpieces is current Ireland No. 1 Arthur Gaskin, after representing Celtic SC in the Munster League. A native of Dublin (and member of Sutton), he moved to Carlow aged 12. While there the occurrence of his local tennis club resurfacing their court led to the beginning of his love affair with the game of squash. He turned professional at nineteen settling in New Jersey, balancing playing with coaching youths. In subsequent years his attained 96 caps for Ireland achieving a career high ranking of 79th in the world in 2009. You can stay up to date with Arthur on the blog SportsShoes.com, who now resides in Ipswich, England.
A renaissance of the club has commenced in the last few years due in large part to Eugene Walker, a former player, which led to the refurbishment of the two courts that remain today at Norris' corner. Already one of the stars for the future is Eugene's nephew, Daryl Reidy.
The dedication to young players at Celtic SC continues to this day. A four-week program partly funded by Squash Ireland saw eleven first year students from De La Salle College followed by seven from Mount Sion CBS receive coaching from Jack Laffan and Kevin Knox (combined with the efforts of Robbie Power of De La Salle College with Brian and Conor O'Neill) before competing against one another in home and away fixtures in April and May 2016. Integral to the successful implementation of the program was the collaboration between Squash Ireland, Waterford Sports Partnership and Celtic Squash. Such efforts will in no doubt deliver the next generation of bright and talented players to represent the club and hopefully, with the same dedication as their illustrious predecessors receive provincial and international honours.
A club with such an illustrious history combined with efforts of its members deserve more merit and attention then they receive. Hopefully it won't be too long till Celtic SC claim an eighth All-Ireland and produce players of the ability of yesteryear. A great nursery of sporting talent in Waterford has been reborn.