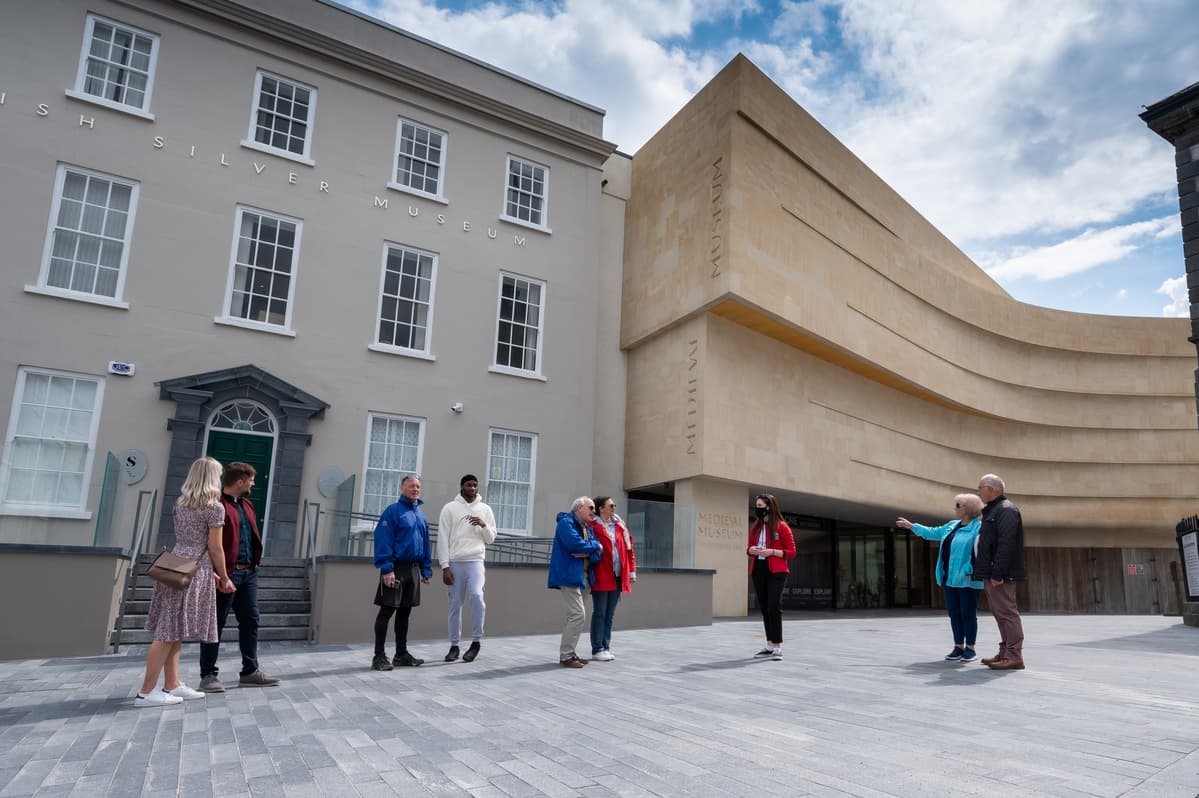 Schools
The multi-award-winning Waterford Treasures is the premier cultural resource for the education sector in the southeast of Ireland. As well as traditional tours of the museum we have a range of education workshops available and offer bespoke tours for school groups to help encourage a lifelong connection with history and local heritage in students of all ages. Please contact Clíona Purcell on [email protected] or call 051-849675 to find out the full range of options available for your class
.
Teachers/leaders go free
Coach set-down in front of Bishop's Palace, no long walks for your students
All booked groups are given a guided tour of Bishop's Palace, Medieval Museum, Silver Museum or Irish Museum of Time (or a combination), a duration 45 minutes
Epic Guided Walking Tour of the Viking Triangle is another option to book, 1000 years of history in 1000 paces.
Curriculum – and age-appropriate tour
Irish, English or French-speaking guide available for your group, when booked in advance
Epic Tour* is run daily at 12.00 noon and 2.00 pm, during the summer months (May-Sept) and on-demand outside of that period
Audiovisual presentations in all museums
Wheelchair accessible, lifts in Medieval Museum, Bishop's Palace and Irish Museum of Time
Café in Bishop's Palace
Gift shops in Medieval Museum
The Epic Tour of the Viking Triangle
Fun for both adults and children alike, the Epic Tour of the Viking Triangle organised by Waterford Treasures Museums in the Viking Triangle, is a humorous and interactive 45 minutes of facts and fun.
Unique in Ireland students are treated to a fascinating exploration of the Viking Triangle, including no less than five national monuments, that span some 1100 years of history and where some of the great events in both British and Irish history took place. You can't visit the Viking Triangle without taking it!
Please contact Clíona Purcell on email at  [email protected] or directly on +353 (0)51 849675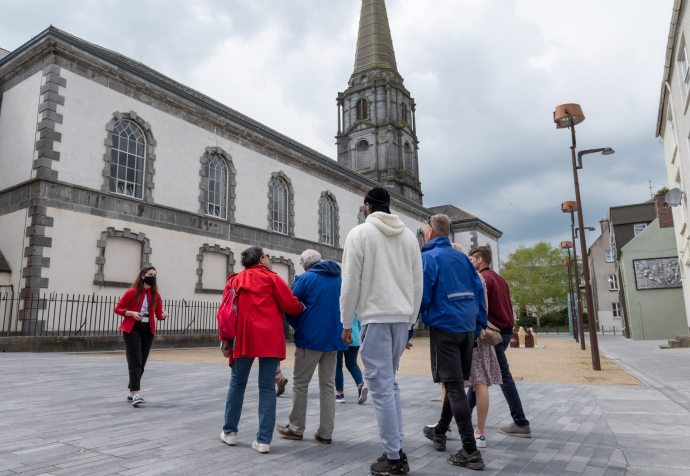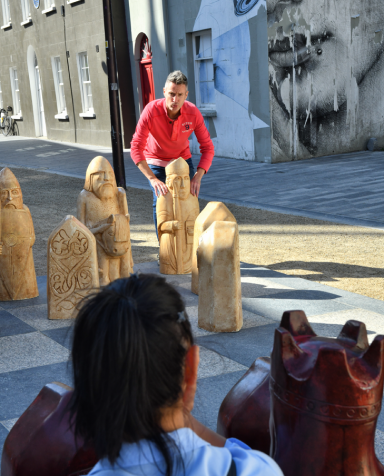 Fact Sheet
for schools
For more information for schools, please download the factsheet below
Download
Waterford Treasures
brochure
Discover the story of the city's Viking foundations, be inspired by medieval wonders and experience elegant living in Georgian times – come explore the secrets behind the treasures.
Download
testimonials
A must visit
This is a great small museum and has a great range of artifacts of historical importance, highly recommended when visiting Waterford
1 year ago
A memorable visit
Wow..we never expected such a gem in a smaller town….so many unique and ancient items….Henry VIII hat and sword and the cloth of gold vestments.
1 year ago
Great museum, A must-see for all ages!
No need to worry about lines and DO purchase the Freedom Pass ticket which gives you admission to most of the museums in the Medieval Triangle. It's only a few Euros more than the single ticket price and you get to see all the important places. All of the staff are welcoming and wonderful. We were there on a Sunday, so basically had few other tourists and could take our time. We also were glad we went to the Bishop's Palace which is not at all what we thought it would be. We had a wonderful re-enactor perform as the housekeeper to guide us on our tour. So much richer to experience the house this way! I loved the Silver Museum and my husband and I both enjoyed the Time Museum. Thank you to the wonderful staff!
1 year ago
Don't miss the Bishop's Museum, Waterford
The Bishop's Museum was unexpectedly comprehensive and thought-provoking. We expected to see beautiful vintage Waterford crystal and lovely furnishings, which we did, but the historical displays of Ireland's role in WWI and Waterford's role in the Easter Rising were most enlightening. Be sure to check out the excellent and detailed trench emplacement diorama honouring the men of the Irish and Ulster brigades. Not to be missed is the innovative 3-D video presentation dramatizing the history of Waterford crystal. Lovely, friendly, most accommodating ladies staff the museum which also has a pleasant tearoom for lunch too. On the only rainy day of our visit, the Bishop's Museum was the perfect place to spend a couple of very worthwhile hours.
1 year ago
Iconic Viking stronghold
It was unfortunate that when we visited the exhibition of artefacts had been removed to a Dublin museum due to the restoration of the building. However, it did not detract from the historical significance of this building which is well recorded in guidebooks. Climbing the circular stone staircase up the three levels was well worth it.
1 year ago
Wide range of Irish silversmiths' craftsmanship through the ages
Display of Irish silver freely donated by Irish silver collectors. Excellent presentation with descriptions of each exhibit. The variety of exhibits and the craftsmanship of their makers is exceptional. Also, a video outlining important events in Irish history. The exhibits are sparklingly clean as they are housed in air-tight cases.
1 year ago
A Different Way to Learn About Viking Life!
After dragging my kids to several museums and hikes, I wanted to find something for them to do that was up their alley - and this TOTALLY was! My sons, ages 16, 9 and 9 all were completely absorbed in this unique activity. I wasn't sure what to expect but you just go into a recreated long house and after a short lesson, you put on a VR headset and watch a 30-minute program that teaches you about the Viking History of Ireland and it feels like you're actually living it! It was my first VR experience and I thought it was super well done! Highly recommended for history buffs, especially, or anyone that likes learning in an interactive way.
1 year ago
A unique experience in the heart of the Viking triangle
We accidentally stumbled upon this museum just before last admission. It was one of those happy accidents! We were astonished by this unique museum and its impressive collection of watches and clocks from all around the world and other artefacts. The museum staff was very kind and informative. If you might be hesitating, because you think it's a boring museum about clocks, don't. It's very modern and interestingly made. Even if you don't care about the history of the clocks, they are still nice to look at. Also suitable for small children. If you ever happen to be in Waterford, definitely visit this museum! You will find yourself in another world:)
1 year ago