Charles Stewart Parnell referred to as the 'uncrowned king of Ireland' was leader of the Irish Home Rule movement in Westminster from 1882 to 1891. A titan of Irish nationalist history, Parnell was an adept cricketer in his youth. Such was his ability, he was even invited to play for an England XI.
Charles Stewart's father John Henry was an Anglo-Irish cricketer who made his first-class debut for Cambridge University in 1831 scoring 25 runs. The senior Parnell had learned the game while attending Eton and later became a member of the Phoenix Cricket Club in Dublin which was established in 1830. John Parnell founded a cricket club in 1835 based in his estate in Avondale. By 1859 John was advised by his doctor to stop playing the game of cricket which he ignored. He became ill after a match in the Phoenix Park and died the following day in the Shelbourne Hotel aged 48.
Charles played for the Avondale side and by age 15 regularly lined out for the starting eleven. In 1862 he reached the total of 26 runs in a match between North and South Wicklow. He developed his prowess as a bowler and even managed to take four wickets for Avondale against a Captain Bayley's side at Ballyarthur. The following year Charles Stewart entered an academy at Chipping Norton in Oxfordshire where he played for a club in the vicinity as a wicket-keeper batsman before entering Magdalene College, Cambridge. While there, over the course of his four years of study, Parnell lined out for the Magdalene College in two matches. The first came in 1867 against Peterhouse were his wicket fell for a 'duck' (a score of zero runs) whereas two years later he reached 19 runs. He continued to play cricket when on holidays at home in County Wicklow.
Parnell went on to captain the cricket club created by his father on his family's estate and was noted as enforcing the 'three-minutes rule'. This rule permitted an incoming batsman three minutes in which to take the pads off a batsman who was given out, and if a longer time was taken between one's retirement and the other's arrival would lead to the incoming batsman being disqualified. Often the rule wasn't rigidly enforced but Parnell was noted as being in 'rather bad form' in highlighting the rule. The Irish Press noted that 'Later, in the House of Commons, he [Parnell] was to show the same ability at enforcing the rules to make his opponents uncomfortable.' Perhaps part of his political revelry was honed on the cricket field by pushing the rules as far as possible.
Parnell was later involved with the Phoenix Cricket Club which his father had played for earlier in the 19th century. He was recorded as a member of the committee in 1866 and in November of the same year was recorded as not having paid his subscription dues to the club. In 1868, Parnell reached 17 runs in his innings for a Lord Fitzwilliam's 22 against I Zingari at Coolattin. Parnell played very little cricket after 1870 due to his political activities. Though he is a member of the committee of Co. Wicklow Cricket Club in 1872.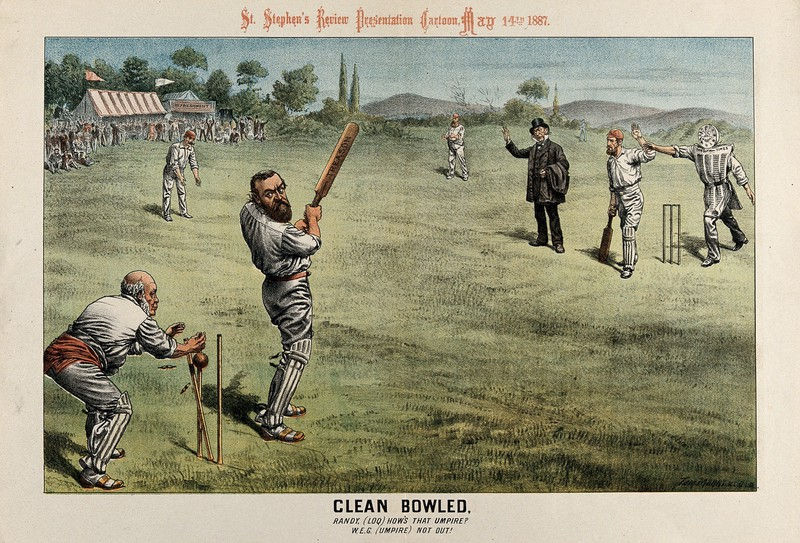 Parnell batting
However, here comes the unusual story of Parnell being invited to play for an English XI in a cricket match in the United States. The Dean of Hereford, Dr Leigh nearing retirement, requested Parnell to play in a two-day match at Philadelphia to which the Wicklow man 'consented with alacrity' until he found out the nature of the contest. It was to be a cricket match between England and America. Parnell responded by commenting 'Oh, England versus America. I'm afraid that won't quite do. It will get into the papers, and if I'm playing on a side entitled "England" they'll kick up a row at home.' The side made up of Englishmen residing in America had to do without the cricketing prowess of Parnell. This would appear to have been during an England team's tour of North America in either 1868 or 1872.
In January 1880 when visiting New York, Parnell met the great Fenian John Devoy both hailing from County Wicklow with Devoy commenting he was from Rathdrum and had played on Parnell's father's cricket team. The old Fenian detailed that John Henry Parnell selected the best XI regardless of class or standing in the local community from landlords to farm labourers. Devoy stated that the senior Parnell's team had even defeated an All-Ireland side.
For the rest of the decade Parnell's endeavours were directed to the cause of the Irish Home Rule movement until his fall from grace and death in October 1891.